I write contemporary Soul Music
Music is vibration, harmony, beauty; a way to express ourselves with or without words. It can help us remember our source, our wholeness, and bring us home. For CD's Mp3's and scores for the music, contact Marguerite Wallis.
Soothing sounds for the soul
Music has been a part of my life since I was conceived. I was born to Haydn's creation and bathed in the music my mother loved whilst in the womb. Growing up in various African countries I was surrounded by singing as a natural extension of speaking.
I love to bring harmony, beauty and the richness of the inner life and love into music so I hope my compositions express this. All my compositions draw inspiration from Sufi retreats in Iona and Hereford with the Inayati Order, UK and my particular guide Noor Jacobs. The website is www.sufiorderuk.org. Sufis are mystics and embrace all spiritual traditions. They follow the path of the Heart; Love, Harmony, Beauty and the Unity of religious ideals.
Concerts and Events
I am a pianist, violinist and singer working mainly with the East Oxford Community Choir and a choir called Sweet Edge that sing my compositions. I am also part of a group that runs singing events at the Abbey in Sutton Courteney to honour the changing of the seasons and a Taize event for Christmas and the winter Solstice. See the Abbeys website for these events.  I have composed a canon to be used at the Westmill Woodland Burial ground www.woodlandburialwestmill.co.uk and have organised fundraising concerts for Freedom from Torture, Amnesty International, Ark-T Centre (Creative Arts project), a bust in Gordon Square, London for Noor un Nisa Inayat Khan and Kaimosi Mission Hospital, Kenya. One event titled Salaam, Stillness and Song was to remember those we have loved and lost.
The Abbey, Sutton Courtenay, Sacred Songs around the Year, The Autumn Equinox
"As the earth turns and we in the northern hemisphere tilt away from the sun, we will welcome and honour the autumn equinox. Through song and a gentle dance we will contemplate turning; turning within to the inner light, turning towards the gifts of longer nights and increasing darkness, turning towards the stars and the moon and reflected light. Wheresoever you turn, there is the face of the Beloved." (Paraphrased from Ibn Arabi).
An evening of singing together and feeding the soul
Thurs 20th Sept at 7.30 to 9.30
£10.00 including light refreshments. No need to book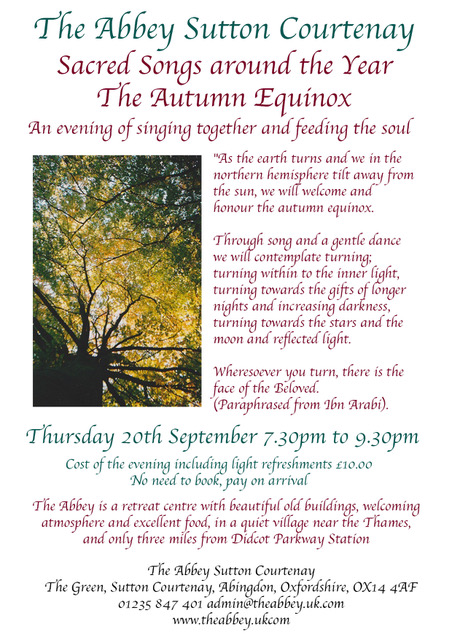 Contact me if you wish to be notified of concerts and events.
"Such beauty in your music….I have been playing your CD and have been completely bowled over by it – it is absolutely wonderful" (C.M)
"I've been wanting to email for some time to say how amazing your music is!! Truly beautiful.  There is one that stays with me all the time – the 5th track about the weaving, yearning….oh how amazing. Thank you for sharing your beautiful voice with me" (K.P)
I wanted to let you know that I played Wayfarer II and III to two of my clients (in the context of shamanic healing) on Tuesday. This is magical music…the words of Hafiz are so profoundly affirming at a soul level for someone who might have experienced violation..and your inspired setting of them so much supports the meaning of the words" (C.S)